Celebration Building (Anderson Building)
Open Daily Noon-8 p.m.  Medallion Hunt starting at noon Wednesday-Saturday, T-shirts for Sale, 150th Commemorative Crocks for sale, memorabilia, entertainment, ALUMNI sign in! 
150th Jackson County Fair Memorabilia
150th Jackson County fair Memorabilia
The 150th Jackson County Fair Planning Committee has a few different options if you would like something to commemorate the 150th fair this summer:
Ÿ
¼ Gallon Blue Striped Crocks: you can find more information on the crocks and place orders here:

https://goo.gl/forms/DNNeldjBYrXNWErh2

.  Please note that the first 50 crocks that are ordered can be picked up during fair, but we will place a second order if necessary, and those can be picked up after fair.
Ÿ
Clothing: If you would like to order any clothing or apparel, you can find more information and place orders here:
https://www.mkt.com/proapparel
. 
Orders placed by Sunday, July 15th will be ready to pick up by county fair.  Ted (the owner of the business) will also have set times during the fair to make t-shirts in the Celebration (Anderson) Building, but will be limited to 100% cotton t-shirts.  At that time he will also have additional items to add on to the shirt like clovers, animals, club names, champion, reserve champion, etc.
Book Signing & Reading - HARVEY
A Ranch Birthday - Join Author & Illustrator Michelle Weber - Wednesday, July 25th from 4-6:00 p.m. in the Celebration Building!
Medallion Hunt
Wednesday-Saturday there will be a kids medallion hunt starting in the Celebration Building - send the kids in to get their clues!
Jim & Jessie Howard & Byron Kittleson guest artist
Make sure you stop in on Friday, July 27th in the Celebration Building starting at 4 & ending at 6 p.m. to enjoy these artists, while they play some of your favorite music!
Special 150th Challenge Open Class Project
Here's the challenge:
Try to capture some aspect of the Jackson County Fair, its history, tradition, or what the Jackson County Fair means to you in your project.
All projects entered are eligible. There will not be a special registration for this challenge.
Feel free to add an explanation to your project if necessary to understand how your project connects to the challenge.
Prizes:
1st - A pair of tickets to the Dylan Scott Concert on Saturday, July 28
2nd - A pair of tickets to the Bull Riding Challenge on Thursday, July 26
3rd - A season parking pass for the Jackson County Fair
Calling all Alumni
Please share with anyone that has been a past alumni for Jackson Co 4H or FFA & invite them to Come Together for the 150th.  The Celebration Building (Anderson) will have an indoor stage, seating, & displays for all to enjoy.  Please stop in & check it all out.  Watch for further details!
FAIR Pictures & Memorabilia
A computer slide show put together by the Jackson Co Historical Society & other items from years past will be on display in the celebration building. 
FREE Entertainment
There will be entertainment from 4-6 p.m. Wednesday, Thursday, Friday and Noon to 4 on Saturday.  Check back for details!
Birthday Party
On Saturday, July 28th we'll be serving birthday cake from 2-4 p.m. under the Celebration Building (Anderson)! 
Bucket of Junk Challenge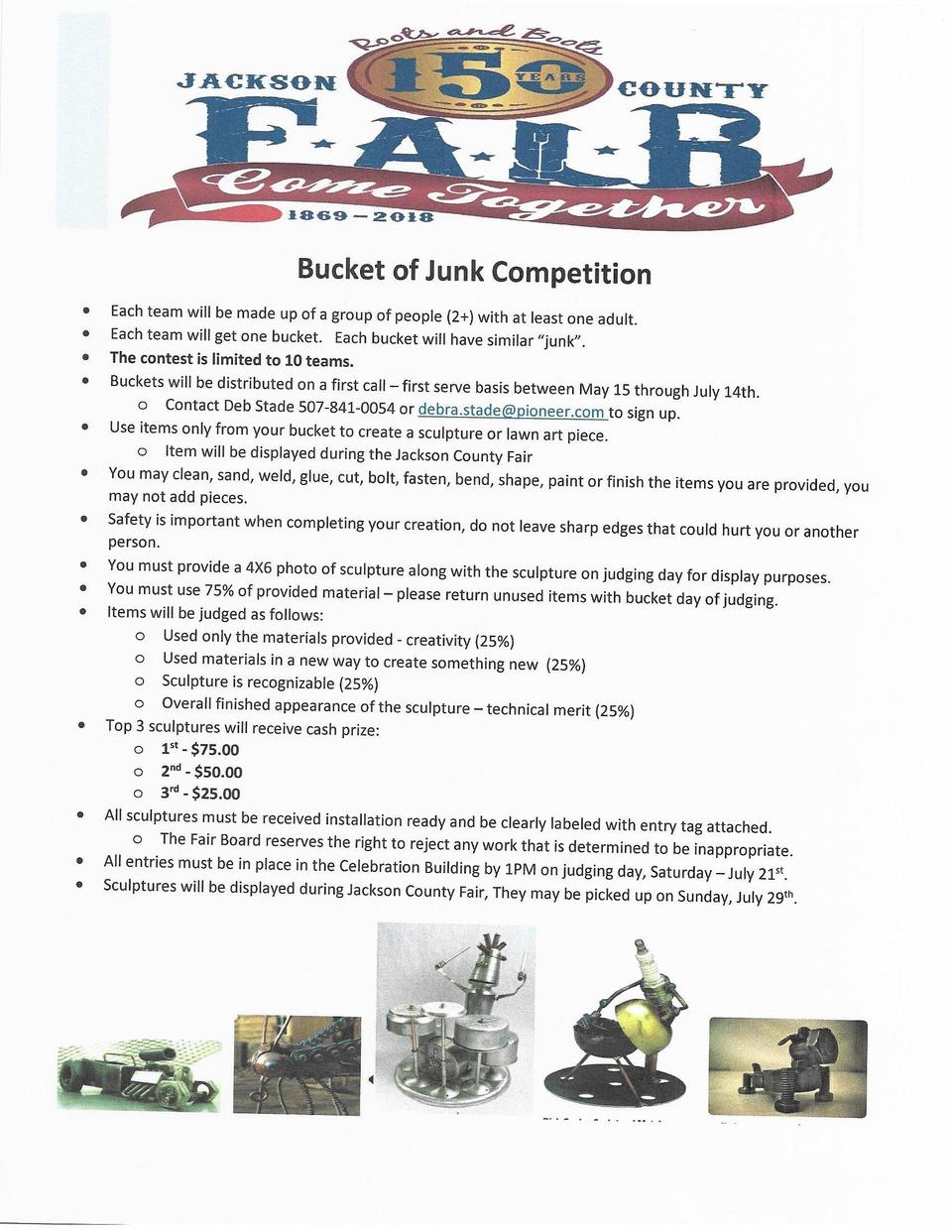 10 participants are signed up - FULL - Make sure you check out the creations during the Fair!